Xander Resources, a junior exploration company, (TSXV:XND FSE:1XI OTCQB:XNDRF) positioned to take advantage of the accredited gold and other mineral potential in three separate Gold Camps in the Abitibi Greenstone Belt.  Xander's properties are easily accessible within the Canadian Province of Quebec from the gold mining center of Val-d'Or and two significant claim blocks in Ontario in the Timmins mining camp which is host to nickel, copper, and cobalt. 
Xander's properties are easily accessible within the Canadian Province of Quebec from the gold mining center of Val-d'Or.  Xander is also strategically positioned in the Val-d'Or Gold Camp with its Senneville properties, in the Fenelon Gold Camp with its Blue Ribbon Property, and in the Urban Barry Gold Camp with its Bachelor North Property. The Timmins 50 claim block runs contiguous to Canada Nickel's MacDiarmid Project in which CNC has identified an anomaly 15% larger than the Crawford Main Zone. The 236 claim block is situated approximately 20 kms east of the Crawford Main Zone and southwest of Kingsmill, Mahaffy-Aubin, and Nesbitt North, properties acquired in an option agreement from Probe Metals.
Xander Resources has very distinctive qualities compared to other junior mining companies that value-focused shareholders can appreciate.
What are some of Xander Resources highlights and how can they increase shareholder value?
1. Xander holds unique interest for investors due to its small (yet well-funded) under $5M market cap. Junior exploration companies have the highest upside potential of these investment categories due to low barriers of entry for investors. Often mineral exploration stocks will trade at low market capitalizations before confirming gold reserves, with their share price increasing significantly as they reach higher valuations.
2. The Senneville Claim Group has massive potential, positioned near active and past producing Gold and Lithium mines in the Val d'Or (French for "Valley of Gold") mining region and contiguous with Monarch Mining, Probe Metals and just north of Eldorado Gold. With over 100 square km of land, this is a highly prospective group of properties that Xander is currently exploring is nothing short of impressive for a small junior explorer. For an early investor, this could represent exceptional returns as Xander explores this prolific area.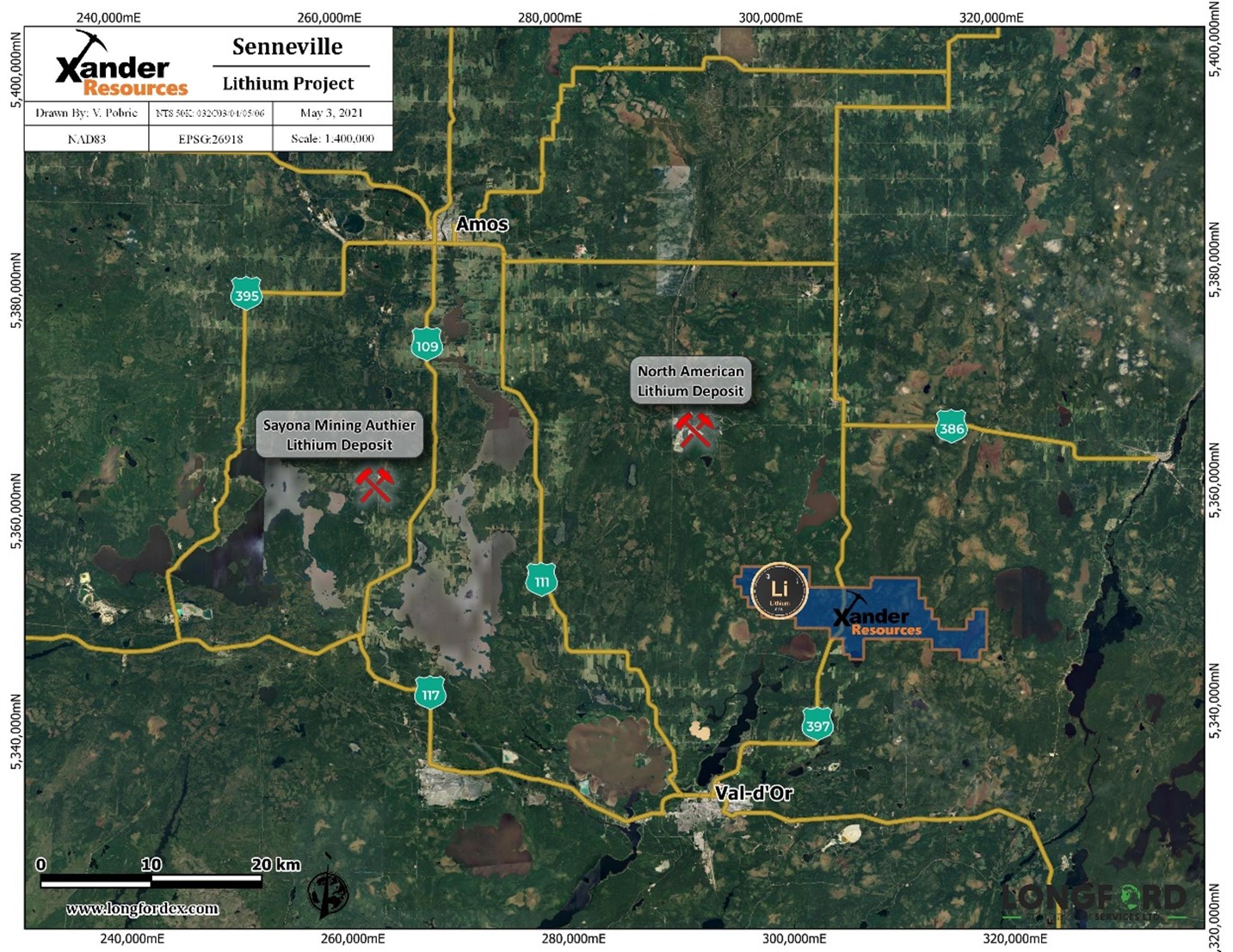 3. The prospective Blue Ribbon Property in the Fenelon Gold Camp is within close proximity to Wallbridge Mining's successful Fenelon Gold Property that recently yielded 22.73 g/t gold over 48.01 meters and 43.47 g/t gold over 19.00 meters. Read more about Wallbridge's
Results here:
https://wallbridgemining.com/news/october-19-news-release-update-title-and-slug-under-settings/
Xander Blue Ribbon Property has gold at surface and it contiguous to Midland Exploration (TSX-V: MD), Great Thunder Gold (CSE:GTG) and Probe Metals (TSX.V:PRB) who are all actively exploring and developing their discoveries. Exploration of all these properties in the Fenelon Camp were sparked due to Wallbridge's exceptional results and the skyrocketing price of gold in response to massive inflation in most developed nations.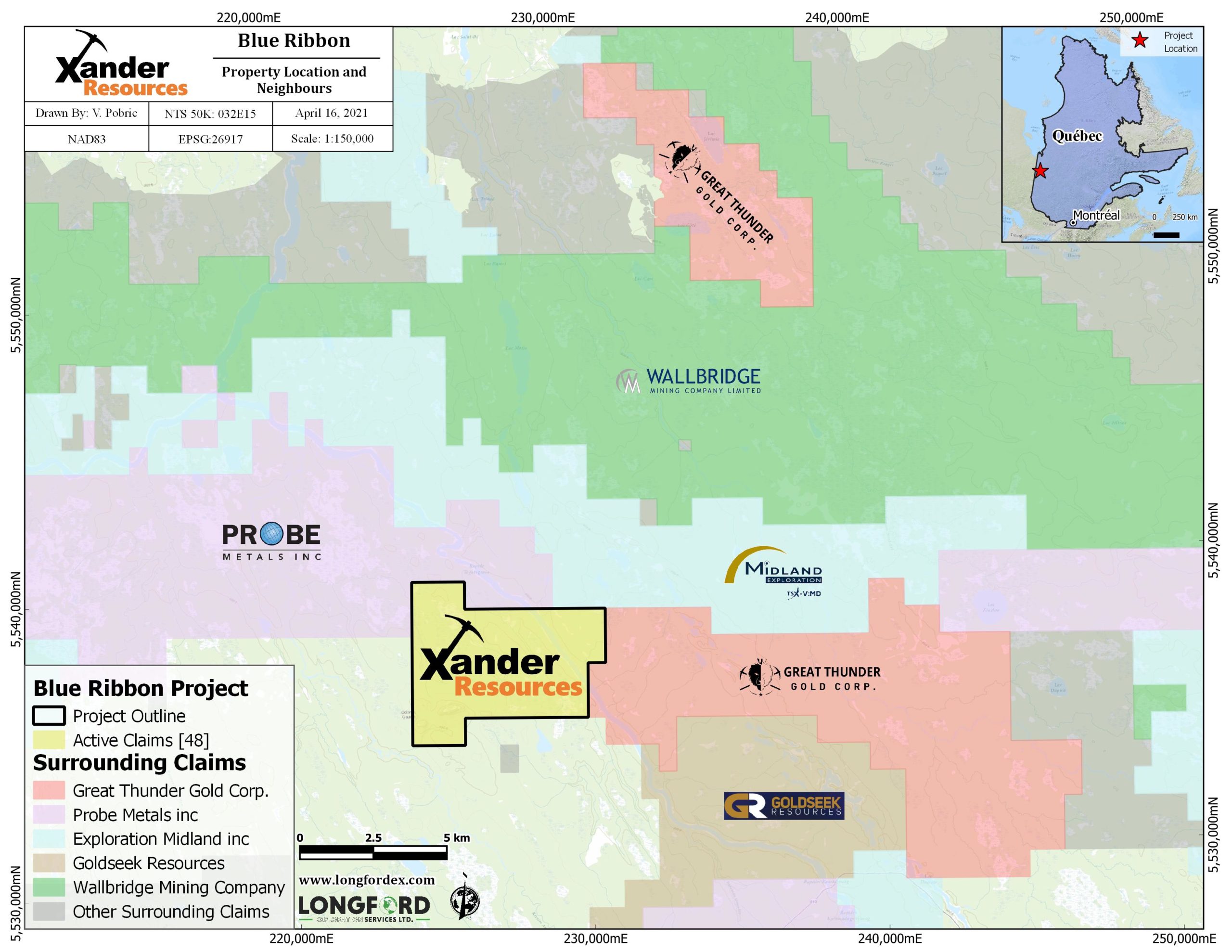 4. The Urban Barry Gold Camp is one of the most active exploration camps in the world. The camp currently hosts 8 million ounces of gold with area investment by a major (Kirkland Lake Gold) in both Osisko Mining and Bonterra Resources. Other companies actively conducting exploration and development in the area are Midland Exploration, Soquem and Globex. Xander has an option to acquire a 100% interest in the 35 mineral claims known as the Bachelor North Property that is contiguous to and north of Midland Exploration's Lewis property, and to the southwest are Soquem, Goldex and Bonterra. Xander plans to conduct ground work followed by sonic drilling during the 2021 exploration season.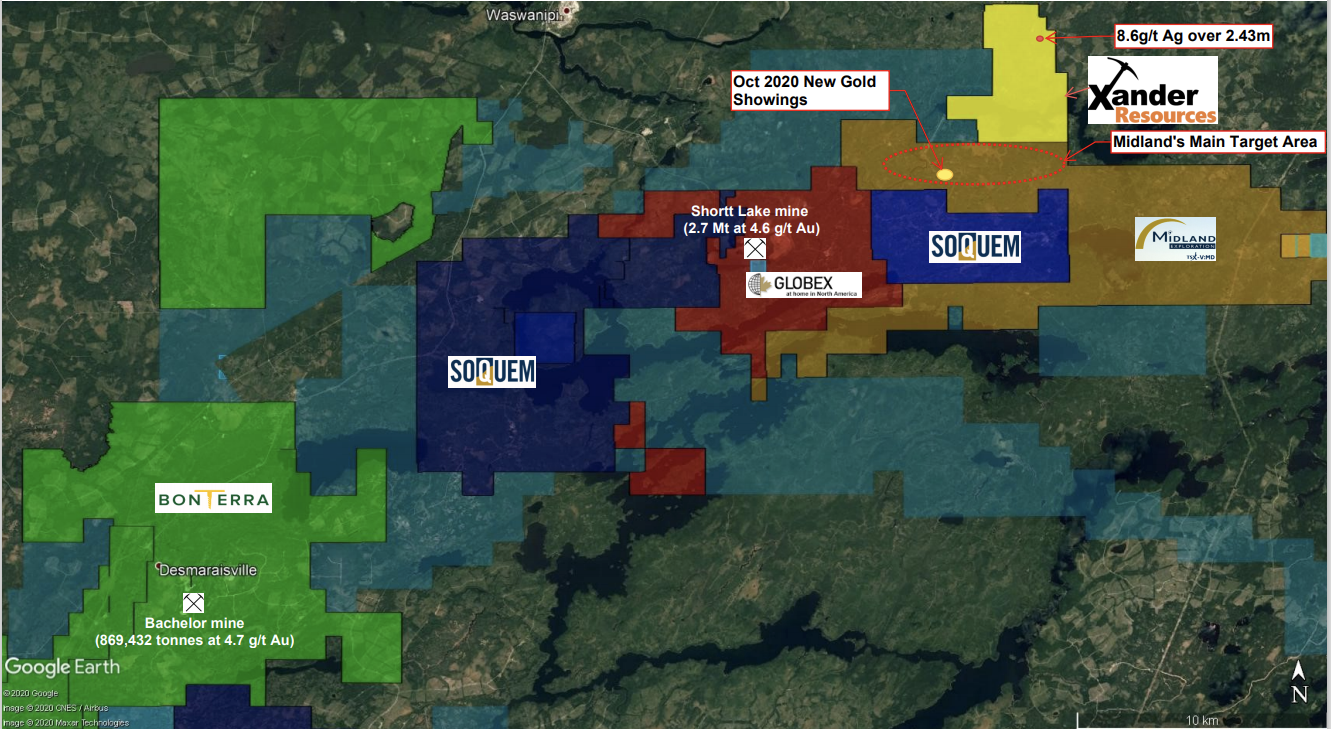 The Timmins Mining Camp is one of the most active exploration camps in the world with mining legacy reaching back 100 years. It is well serviced with infrastructure including relatively inexpensive hydro-electric power, highways, rail, and is home to a skilled workforce in the mining sector. The camp is also home to the Hollinger Project, the Bell Mine, the Dome Mine, the Hoyle Pond Mine, and the Kidd Creek Mine, which is the world's largest base metal mine operating below sea level at 9600 feet with shaft bottom at 9889 feet. Xander's two claim blocks comprising 286 claims are situated in an area play where Canada Nickel has made significant nickel discoveries and property acquisitions over the past few years.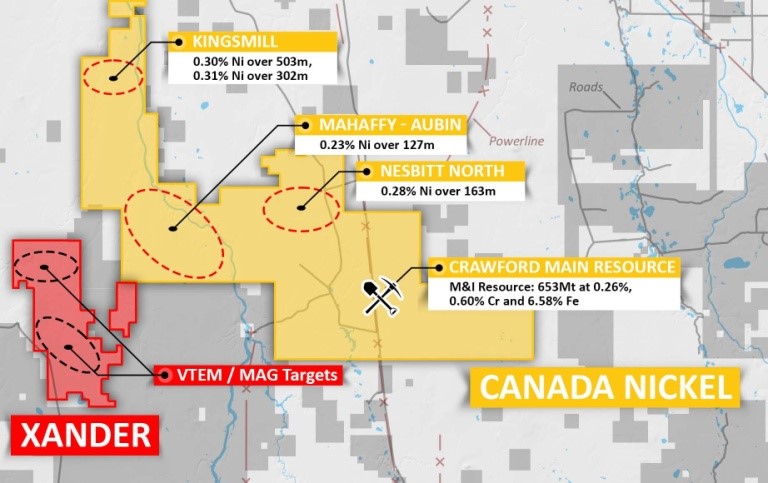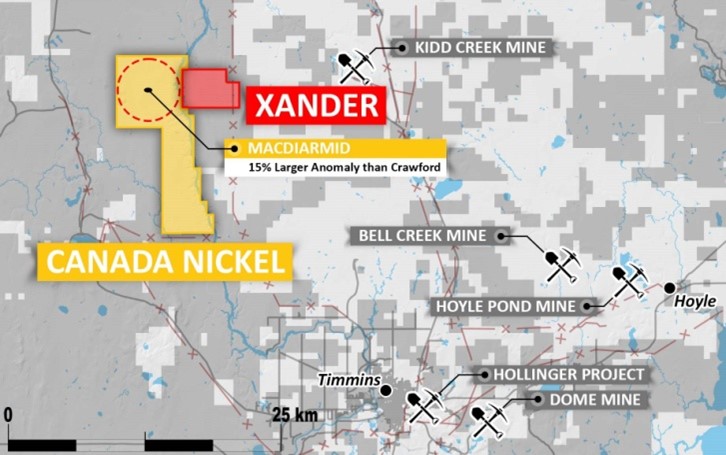 For forward-thinking investors considering capitalizing on the 'Greenwave' and the push for electrification, Xander Resources is well positioned in the Timmins-Cochrane mining camp. Canada Nickel continues to make significant strides in nickel discoveries and is continuing to expand its footprint across the region. With a soil sampling and drilling program scheduled for the first quarter of 2022 (in red for Deepaks approval), Xander North and Xander South are likely to provide good opportunities for the junior exploration investor.   
 For any investor thinking of investing into the economic mineral potential of the Timmins Camp and the Abitibi Greenstone Belt, Xander Resources is well-positioned to provide healthy returns of the gold, lithium and nickel related industries, junior mining companies have the highest upside potential for value-focused investors. The uptrend in potential creates a promising exploration opportunity for the Senneville Group of Claims, Timmins Camp and the Abitibi Greenstone Belt and and the exiting gold, lithium and nickel prospects within the properties. Xander's management team and advisory board has global experience and proven success with gold discoveries. Xander's current low market cap under $5M, early investors are likely to benefit with continued momentum of market conditions and Xander Resource's well-positioned properties and strong exploration programs.