Timmins Mining Camp

The Timmins mining camp is one of the most highly prolific mining districts in the world, and by far, the number one district in Canada. The ever-expanding mining camp has been in production for over 100 years and is well supported with infrastructure including highways, relatively inexpensive hydroelectric power, a skilled workforce, and of course, is situated in the mining-friendly jurisdiction of Ontario, the second-largest producer of nickel in the world.
From 1910 – 2019, the district has seen historic production of over 77.1 million ounces of gold, ranking it to date, as the largest gold producing region in Canada. The 'Big Three' mines, Hollinger, Dome, and McIntyre have contributed to over 60% of the total gold production in the district. In addition to being host to gold, it is estimated that 312 million ounces of silver, 16 billion lbs. of zinc, 12 billion lbs. of copper and 82 million lbs. of nickel have been mined in the Timmins Mining camp.
Timmins-Nickel Claim Group
Xander Resources currently has two separate properties that make up the Timmins-Nickel Claim Group. The two properties comprise a total of 286 claims with 236 claims, to the west of the Canada Nickel's Crawford Main Resource and 50 claims in the South, contiguous to Canada Nickel's MacDiarmid Block. Due to extensive overburden cover geophysical targets are being tested by  Mobile Metal Ion soil surveys. Compilation of the new geochemical results with historical data will continue in the first quarter of 2022 in order to develop drill targets.  The South Block will be covered by an airborne magnetic/electromagnetic survey in the first quarter of 2022.
Xander North
This North claim block is approximately 20 kms west of Canada Nickel's main resource, the Crawford Project. It is also situated south west of Kingsmill, Mahaffy-Aubin, and Nesbitt North, properties acquired from Noble Mineral Exploration by Canada Nickel in an option transaction dated 04/22/21.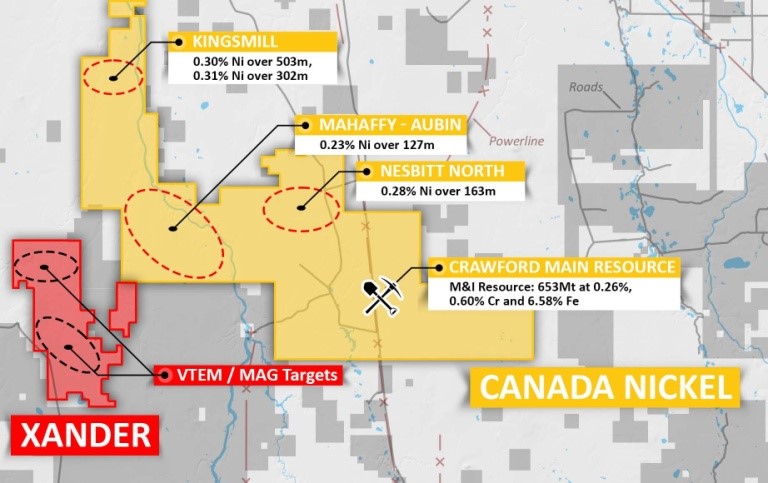 VTEM – Xander Properties Highlighted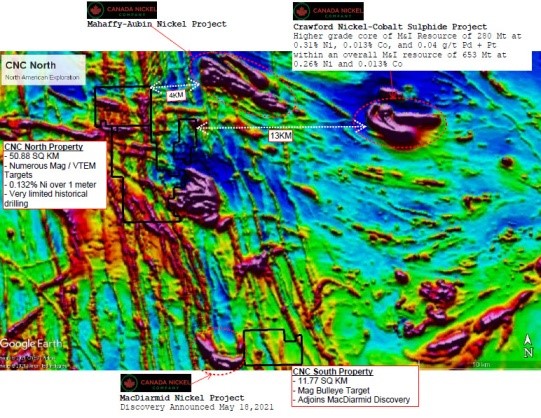 The VTEM map clearly illustrates the notable structures within the CNC claim blocks and bordered overlays of Xander Resources North and South claim blocks.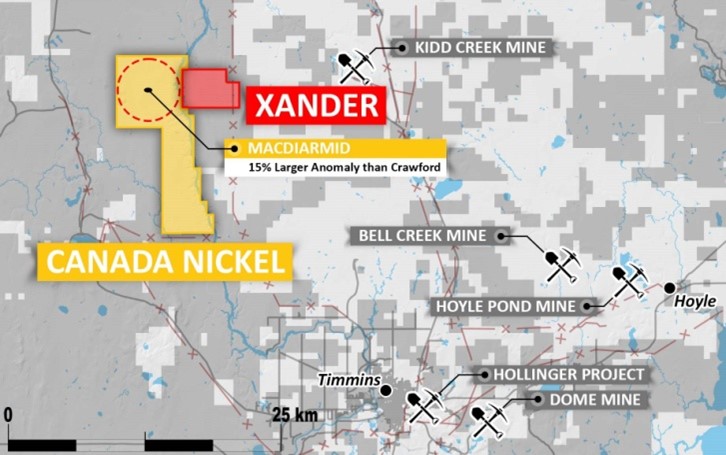 The 50 claim block runs contiguous to Canada Nickel's MacDiarmid block and is approximately 20 kms west of the Kidd Creek Mine owned and operated by Glencore. The Kidd Creek Mine is the world's largest base metal mine operating below sea level at 9600 feet with a shaft bottom at 9889 feet.  
Historical exploration activity and current airborne geophysical surveys over the MacDiarmid Block have revealed an anomaly on the MacDiarmid target to be 1.8 km long indicating a structural footprint averaging 400 meters in width – 15% larger than Canada Nickel's original Crawford's Main Zone discovery. On 06/23/21, Canada Nickel issued a press release announcing a significant extension of the Crawford Main Zone including the first higher grade PGM intersections in main dunite mineralization.gs.