Senneville West Lithium Project
Recent examination by the Company's geologists suggests the possibility of Lithium on the Senneville West claim group as the claims are in proximity to the La Corne Batholith, two existing Lithium mines and a developing Lithium prospect by Great Thunder Gold (TSX.V:GTG).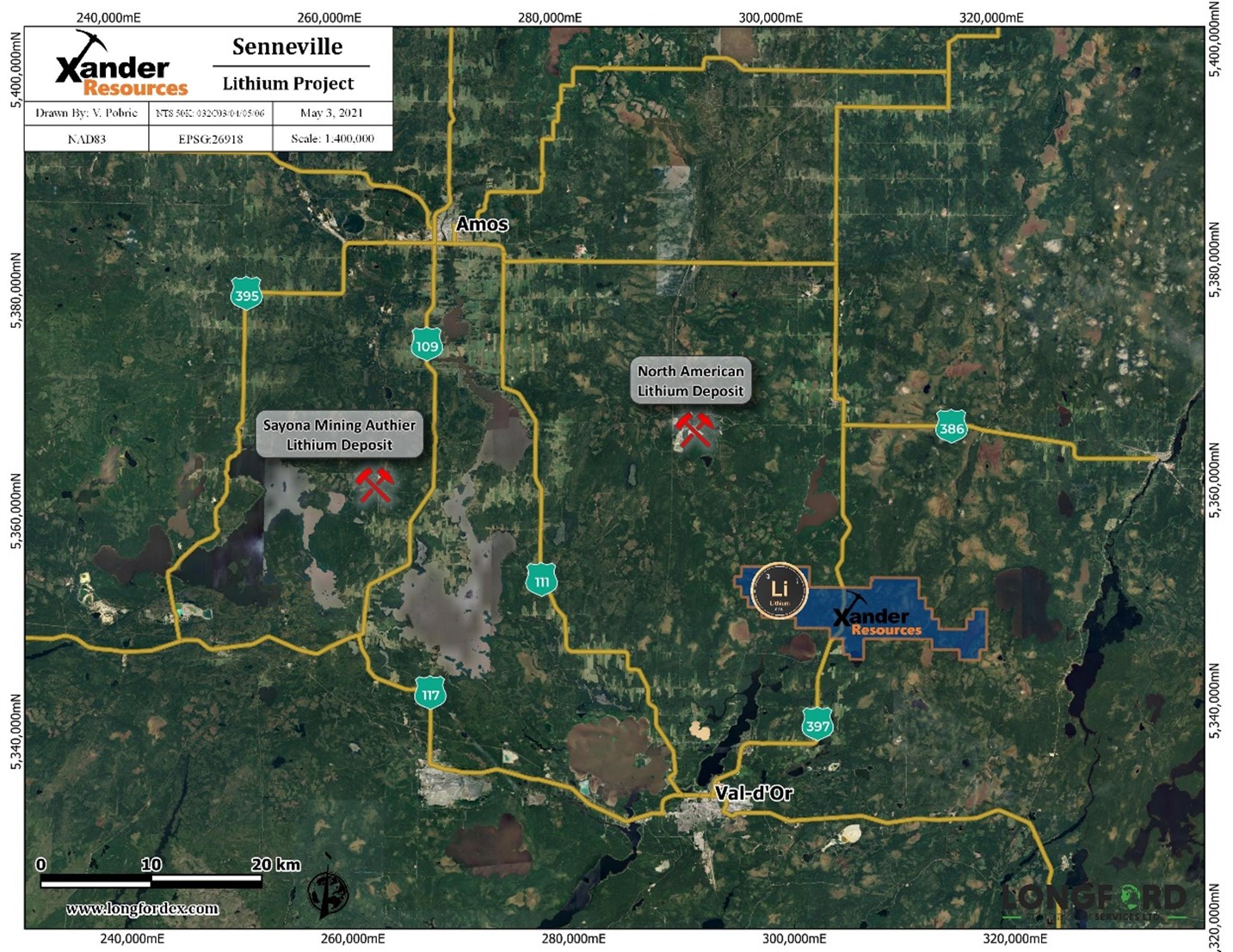 The Company's current mineral claim package has identified a well-positioned Lithium exploration area at the fringe of the La Corne Batholith 30 km North of Val-d'Or, Quebec. The Company currently holds a contiguous land package of over 24,000 acres in Val-d'Or where it recently completed a 3-hole drill program on the East side of the claim group.
The geology is hosted in the La Corne Pluton and in close proximity to the North American Lithium deposit with proven and probable reserves of 17.06 Mt grading 0.94% Li2O, and measured and indicated resources of 33.24 Mt grading 1.19% Li2O (http://na-lithium.com/projects); Great Thunder Gold's (CSE: GTG) Chubb Lithium property and East of the Sayona Mining (ASX: SYA) Authier Lithium Deposit. Great Thunder Gold's historical drill hole intervals include; 1.33% Li2O over 5.3 m, and 1.68% Li2O over 3.7 m and on May 4, 2021, announced a 15-hole, 2,250 meter drill program to expand the lithium-bearing pegmatites along strike and at depth.
Road access, infrastructure and outcrop exposures are excellent on the property and it is in a prolific lithium bearing pegmatite field. Federal and Provincial support for the developing EV industry has stimulated the search and development of satellite hard rock discoveries in Quebec.
This 80 claim group is also contiguous with the Senneville South claims and is north of, and contiguous to Probe Metals (PRB.V) Val-d;Or East project, which consists of their Pascalis, Monique and Courvan properties. As of June 1st, 2021 Probes resources have shown large growth improvement over previous estimates. Probe's current resources stand at 1,773,500 ounces of gold in the Measured & Indicated category ("M&I") and 2,205,300 ounces of gold in the Inferred. Probe's drilling has successfully converted an additional 907,200 ounces to the M&I category over previous estimates.
Further south Eldorado Gold (ELD-T) (formerly QMX Gold) reported on December 2, 2020, a 53% increase in indicated resources and a 100% increase in inferred resources at their Bonnefond South property.
In Québec, a new drilling campaign is underway at Sayona's (ASX: SYA) flagship Authier Lithium Project, with a goal of expanding their current ore resources. Sayona Mining acquired 100% of the Authier project in July 2016 and is on trend with Xander's current findings at the Senneville West Property. To date Sayona has produced positive results from their efforts, initially producing a 6% Li2O spodumene concentrate.
Historic anomalous base metal values from drilling and surface sampling on the Senneville West claims are also encouraging. Additionally, these values express the deep mineralization which would require deep penetrating geophysical methods, such as magnetotellurics (MT). The Fiedmont PGE property to the north, which returned values from both drilling and surface sampling ranging from 1.5 to 6.7 g/t PGEs, and gabbros and ultramafics on their property suggests that the Senneville West claims also have PGM potential.